We're Celebrating 100 Years!
Our customers are why we are still here. Whether you are a new account or we've been doing business for many, many years, we thank you for your partnership!
Tell us how we have made your business better, your job easier, and your employees more productive and we'll send you this glass of our awesome new logo.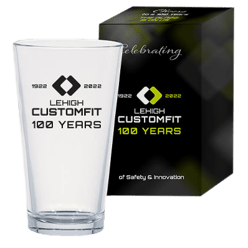 Cheers to the next 100.
Don't have an active CustomFit account to brag about? Get a Free Glass Here.
One entry, per person across both pint glass promotions. While supplies last.